Zenith Minerals (ASX:ZNC) finds high-grade copper at Develin Creek
At this exciting start to the year, Zenith Minerals Limited (ASX: ZNC) announced the intersection of broad intervals of high-grade copper at the Scorpion deposit of the Develin Creek copper-zinc project. The Sulphide City and Scorpion drill program intersected large areas of high grade copper and zinc.
Resource Update Drilling in Sulphide City and Scorpion
Twelve and six holes were drilled at the Sulphide City and Scorpion deposits, respectively. Assay results from two of Sulphide City's nine holes are still pending.
Scorpion's broad high-grade intersections included –
ZSCRC010 – 21m @ 2.5% Cu, 1.6% Zn, 0.4g/t Au and 18.0g/t Ag from 50m depth
ZSCRC012 – 20 m @ 2.3% Cu, 0.3% Zn, 0.4 g/t Au and 16.2 g/t Ag from 38 m downhole
ZSCRC009 – 18m @ 1.7% Cu, 0.6% Zn, 0.6g/t Au and 26.3g/t Ag from 19m down hole
The latest massive sulphide results from Sulphide City included 2m grading 1.2% Cu, 0.3% Zn, 0.1 g/t Au and 4 g/t Ag at drill hole ZSCRC014.
Must read: Zenith Minerals Discovers Copper-Zinc Massive Sulphides at Develin Creek Project
Areas tested in recent drill tests Source: Zenith Minerals Limited Company Announcement January 7, 2022
Speaking of the latest results, CEO Mick Clifford said:
"Infill drilling of the resources at Scorpion has confirmed the high-grade nature of the copper lens, which together with Sulphide City forms the basis of the historical inferred mineral resource. Once we can complete the planned drilling program at Sulphide City, which was halted in 2021 due to significant rainfall, we can then update the resource estimate.
Most importantly, we are very keen to bring the drills back to Snook and Wilsons North where we have successfully discovered massive new zones of copper-zinc sulphide in our regional drill programs in 2021."
Drill program
Zenith had begun a three-pad drilling program at Develin Creek in September 2021 to test the copper-zinc targets at Wilsons North, Four and the Snook prospects located around the existing Sulphide City copper-zinc massive sulphide deposits. JORC.
Read here: Zenith Minerals (ASX:ZNC) surges 7% following the discovery of new mineralized zones at Earaheedy
Up to 46 holes were drilled during the resource update drill program for a total of 6,148 metres. Results for 9 holes (4 at Wilsons North Prospect, 3 at Snook Prospect and 2 at Sulphide City) have yet to be received.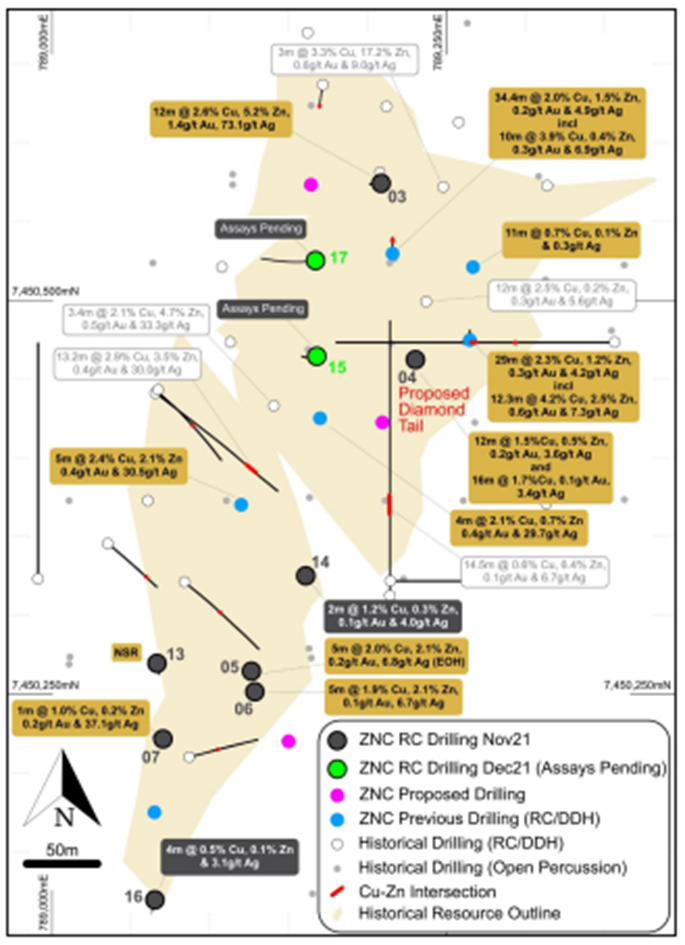 Drill location and assay results at the Sulphide City deposit Source: Announcement by Zenith Minerals Limited Company January 7, 2022
Zenith has completed resource update drilling at the Scorpion and Sulphide City deposits, where the latest drilling returned strong copper-zinc massive sulphides in the paired hole program, including –
34 m at 3.5% Cu+Zn, including 10 m at 6.0% Cu+Zn, and
29 m at 3.5% Cu+Zn, including 12.3 m at 6.7% Cu+Zn
The drilling program was intended to expand existing JORC resources and add potential tonnage to Develin Creek's copper-zinc inventory.
Must read: Zenith Minerals (ASX:ZNC) Reports High-Grade Zn-Pb Mineralization at the Earaheedy Project
Next steps
Zenith aims to resume drilling in the first quarter of 2022 with follow-up programs:
Test regional outlook on Wilsons North and Snook targets.
Undertake the EM and geochemical targets around Sulphide City that are yet to be tested during the 2021 drill program.
Complete the Sulphide City resource update drill program before testing regional prospects.
Suggested reading: Zenith Minerals (ASX:ZNC) Announces Tonka Zinc-Lead-Silver Discovery at Earaheedy