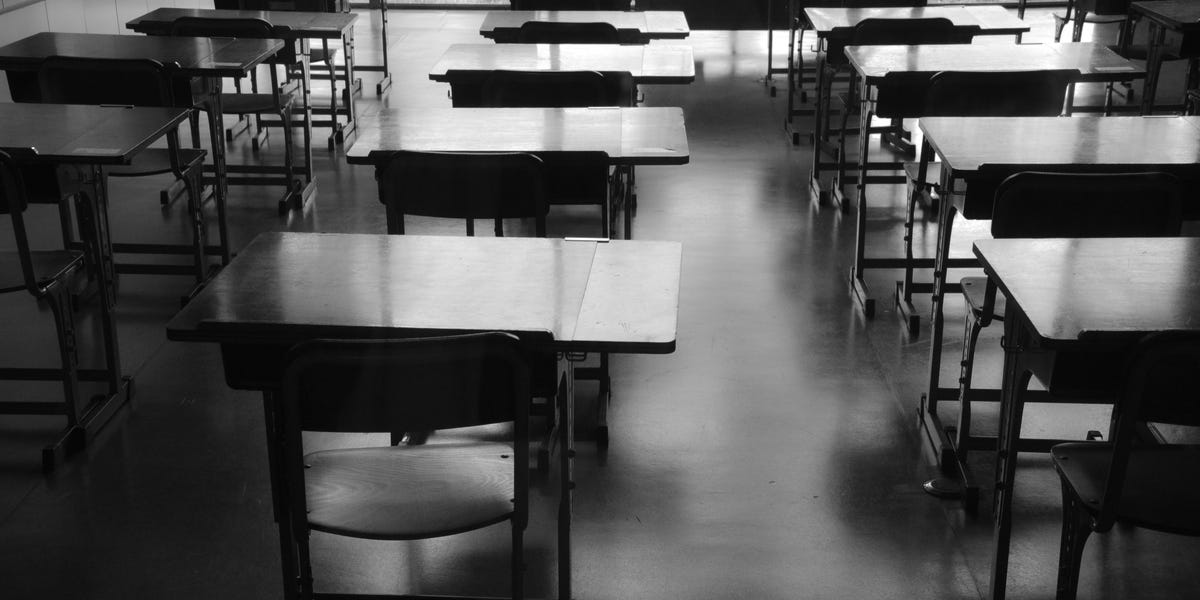 Trauma and the New Normal
Miyako Kondo / Eye EmGetty Images
"Nearly 30 pronounced dead on Virginia Tech campus," I hear on the radio as I quickly switch stations to seek out the Top Hits channel. I was in fifth grade in the United States when 32 people were murdered on the campus in Blacksburg, Virginia. Another mass shooting at a school in the United States? Nothing special. I finally found the radio station I wanted and a T-Pain song blared through the speakers.
My educational experience and relationship with mass shootings in American schools began the year I started kindergarten, in 1999. That was the year Columbine High School in Littleton, Colorado, made the one of the newspapers around the world. My 5 year old had no idea that this was just the beginning and that I would be exposed to mass school shootings for the rest of my life. Since then until now, another 150 students (and counting) have been murdered in their elementary school classrooms, high school hallways and college campuses across the country. My generation has never known the "before". We never knew the school without school shootings. Every chapter of our childhood, from kindergarten to college, coincides with a tragedy that unfolded in a school. And it is a horrible fact.
Now, as a second-grade teacher in New York, I'm on the other side of the classroom. When I decided to quit my desk job a few years ago to become an educator, I'll be honest, I didn't really stop to think about what I was really signing up for. I was inspired to become a teacher by my mother, who dedicated her life to teaching for almost 20 years. For as long as I can remember, I have seen education through the lens of a teacher, learning that the classroom is a space where students need to feel comfortable, protected and inspired to become who they are, with the help of selfless, warm and encouraging teachers like my mother. At least that's what I thought. I kept thinking about becoming a teacher in America really supposed.
On May 24, as my co-teacher and I were finishing up our program and preparing for the start of summer, I read the news that 19 children and two teachers had been murdered in their fourth-grade classroom at an elementary school in Uvalde, Texas. . Suddenly it hit me. I couldn't turn off the TV. I couldn't change the radio. My students and the place where I work every day are likely to be in the headlines. Children in America have always been at risk. My mother has always been at risk. And now I am too. This has been the reality for teachers and students across the country for over 20 years. Twenty years.
Teaching in America in an era of mass school shootings and gun violence has led us to a "new normal" as educators – a "new normal" that somehow past. It's heartbreaking to see how calm my students become whenever a random lockdown drill is announced on the school PA system. They simply stop what they're doing, walk to the "safe corner" (which, if encountered with an AR-15, would be anything but), sit quietly in criss-cross applesauce, and wait. And Wait. But what are they waiting for? I'm not even sure they know that. When a member of reception lets us know that everything is clear, my sophomores return to their seats and carry on with their day as if they weren't just training to take cover from an armed intruder. . It's ingrained in them. It's part of their schedule. School shooting drills like these are as American as apple pie.
I, on the other hand, feel an intense range of emotions. I understand that if a student is in the bathroom at that particular time, I have to lock my classroom door anyway, leaving them to wait for another teacher to pick them up. I know that if I forget to remove the doorstop during these drills – or heaven forbid, in an actual shootout – I'll be the one to be held responsible for what happened in my classroom, right under my eyes. I know I would be solely to blame for any mistakes made in those precious milliseconds. And I'll still be the headline on the TV screen another one generation of children's watches at home.
I'm not the only one feeling this weight – the education community is vast. Whether you have a teacher in your family, a teacher friend, or just remember your favorite elementary school teacher, I'm sure every American knows at least one professional in the field. But have you stopped to reflect on what has become of educators? What do your family members, friends and favorite teacher have to go through day after day? We have become people who are held and expected to keep the children of our society safe and secure. living. Of course, we have the support, the media attention and the I think of you texts in the days following the publication of each title. But it's only a matter of time before we're left to endure those crippling, anxious, "what if" thoughts on our own, yet again.
Twenty years after Columbine, despite all the headlines and countless thoughts and prayers people are posting on social media, the grief continues.
As an educator in this country, I urge you—rather, I implore you—to think about what you ask of our teachers and students every day. I encourage you to look at every mass school shooting that has happened in America since 1999 and identify the common denominator. Location doesn't matter. Neither does the shooter.. It all comes down to the accessibility of firearms. I challenge you to wake up and realize that these circumstances are not normal and we leave the brains to generations of children to believe that is the case. Do not change TV channels. Don't turn down the radio. We must act against gun violence, and we must now.
This content is created and maintained by a third party, and uploaded to this page to help users provide their email addresses. You may be able to find more information about this and similar content on piano.io