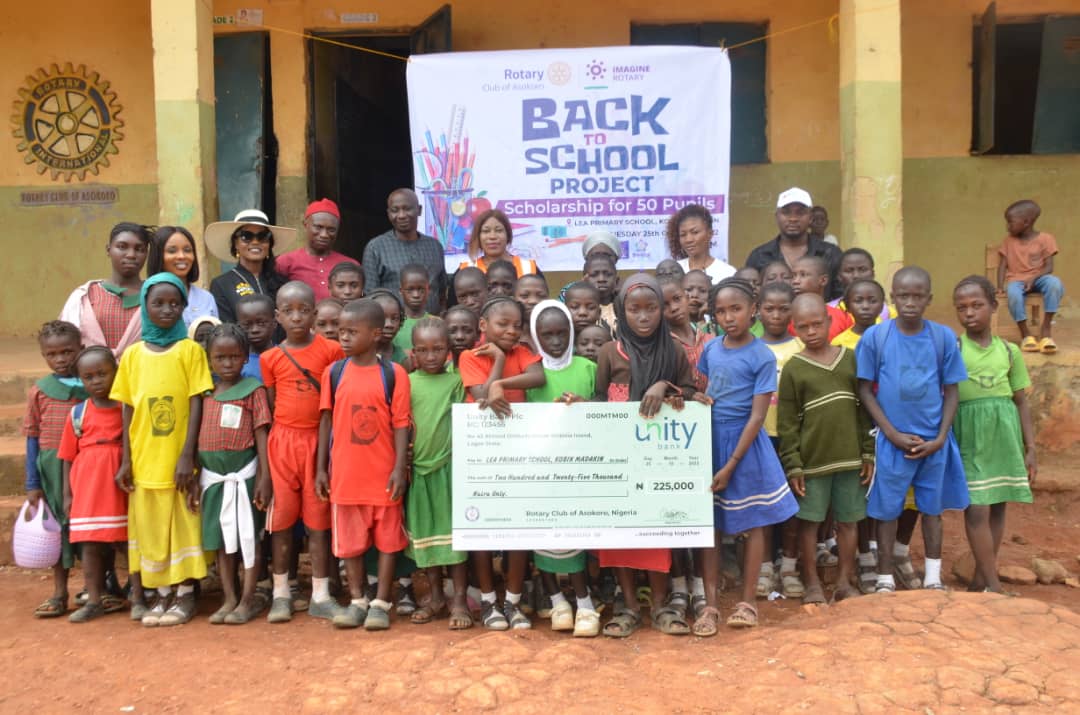 Rotary Asokoro offers free treatment to Kobi residents
The Rotary Club of Asokoro District 9125 Nigeria in partnership with Rfha, Alpha Zone Eye Clinic, Prime Pharmacy, Bill and Melinda Gate Foundation and "End Polio Now" provided medical care to residents of Kobi Makaranta Community in Abuja City Council (AMAC) to alleviate health issues in the community.
The club also provided a one-year scholarship to 50 students from Kobi Primary School, whose parents are struggling to meet their educational requirements.
The president of the Rotary Club of Asokoro, Rotarian Ebele Ezezue-Israel, who spoke to reporters at the inauguration of Rotary's Family Health Day, explained that the free medical care was in commemoration of the Rotary Family Health Day, while the scholarship for 50 students was to alleviate parents' challenges in sponsoring their wards to school.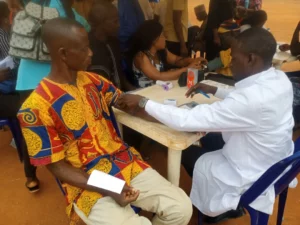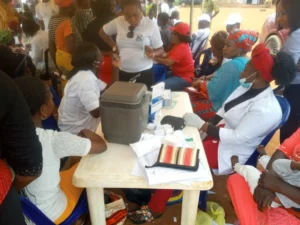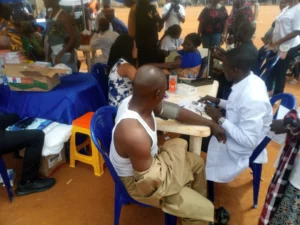 "This is one of the good deeds that Rotary brings to communities. Because these are communities that sometimes struggle to access proper medical care because the only medical facility they have is a health center and not a standard hospital.
"So from time to time we go to the communities to give them proper medical care. We test and give them all types of medication for any condition we test them positive for ranging from blood pressure, malaria, COVID-19 vaccine, deworming, maternal kits, hepatitis vaccination , mosquito nets and sanitary napkins for women of childbearing age.
"If we have something that we cannot manage medically, the patient would be referred to a standard hospital for treatment. We are currently sponsoring some people for cataract surgery at Asokoro District Hospital," he said.
Polio President of the Rotary Club of Asokoro, Ogechukwu Ochuba, explained that the club was conducting its component of Rotary Family Health Day in the community of Kobi, which was an adopted community of the Rotary Club of Asokoro, that the club had supported this community for over 15 years.
"We built a block of classrooms for Kobi Primary School. We are here to help the community with the basics of health. We also have a primary health care team that will vaccinate the children.
"As you know, polio is one of Rotary International's most important projects. So wherever we go, we preach the message of polio eradication. So we vaccinate children here and test and treat COVID-19 diseases. It is a three-day program," she said.
The Principal of Kobi Primary School, Mr. Lazarus Turaki commended the Rotary Club of Asokoro for always putting the interest of the community and the school at heart, thus appealing to the FCT Minister to build more classroom blocks in the school.