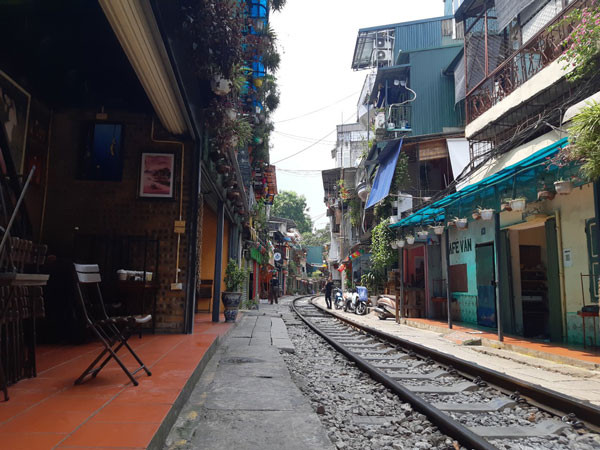 Residents want best solution for 'Train Street' cafes
These are the most pleasant days in Hanoi, as local tourism picks up and the city was ranked among the 12 best places to visit in autumn by the American news channel CNN.
However, these are the days of concern for residents who live along the railway section that runs through Hang Bong and Cua Dong neighborhoods in Hoan Kiem district, making neighborhoods in both neighborhoods an attractive sight for Vietnamese visitors and international.
Seeing the opportunity to improve their incomes, since 2018 neighbors in the neighborhood have opened cafes for those who want to indulge themselves by sipping coffee while watching the train pass in front of their eyes, a few meters away.
Some guests ventured onto the tracks and posed for photos as no train arrived.
Due to railway safety rules, authorities in Hoan Kiem District have asked the two districts to close all businesses and ban visitors from entering the area by September 17 until further notice.
They said households and visitors broke rail safety rules because cafes and homes were too close to the tracks.
Nguyen Le Quan, 52, told the Hanoi Times that he could return to his former job as a freelance electrical engineer, which earned him a maximum of VND 10 million (US$422.4) per month.
His wife is a hairdresser and earns around 60,000 VND (2.5 USD) per hour.
"Coffee has given us so much. It helps me raise my children and provide financial security for my family," Quan said.
"If we have to shut it down, this time for real, it will be too difficult for us."
"It's hard for me to be an engineer again because my hands don't work properly anymore," Quan said, his fingers shaking.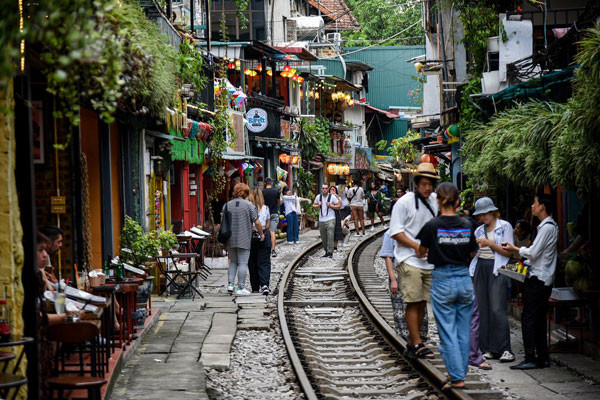 Quan's family and others were struggling to make ends meet. They therefore take out a large loan from the banks to open a café in the "rue du train". The coffee cost him about 500 million VND, but it brought his family about 20-30 million VND per month, enough to pay off the debt and support the family.
According to Quan, locals have settled in the area since the late 1950s. With houses built along the railroad, people lived and grew up with trains passing by at all times of the day. They said they had hardly seen any train wrecks here since they were children.
A few foreign visitors first discovered the area as a tourist spot in the late 1990s and early 2000s, he said, adding that it was foreigners who made the area famous in the media international. Since 2014, he said more and more visitors have come here, looking for unmatched snapshots for their Instagram and Facebook profiles.
"But it's not always about the trains," he said. "Visitors, especially international ones, want to experience Vietnamese cultures and enjoy our friendliness."
"People would think living near the railway is too dangerous, but trains aren't the main threat now," Quan continued.
In recent years, due to the rise of low-cost airlines and the rapid development of highways, it has become more accessible for people to travel north and south, and rail transport is in decline.
Currently, there are only six daily trains from Hanoi to the northern provinces and the cities of Hai Phong, Hai Duong, Vinh Phuc, Phu Tho, Yen Bai and Lao Cai. Most of them leave early in the morning and late in the evening.
"The train is moving slowly through the area, so we have plenty of time to get out of its way," he added.
He and other families have posted their guards, with someone posted on the north side and whistling when he sees the train coming. Then everyone will know.
"We do it for our safety. We are very aware that people could be hit by the train. This is why we always remain vigilant.
Yelling at people, pulling them off the railroad and keeping them behind homemade barricades are the ways people use to keep themselves safe, he said.
"They've been doing it for a long time, with cafes open or not," Quan said, adding that it's entirely out of people's pure "good thinking, good deed."
Visits abroad
The "street of the train" made headlines in the local and international media, sparking controversy.
On Instagram, there are more than 37,000 posts with the hashtag #trainstreet and 14,000 posts with the hashtag #trainstreethanoi, which designate an emblematic place in the capital.
Foreign visitors are fond of the neighborhood. "It's really cool. It's very different. It's very stylish. And it's unique," British tourist Luke Lambert told the Hanoi Times the day before the lockdown.
"You can see why it's a tourist attraction or why people go there because it's special even though there's no train," Luke said as he enjoyed the city night with his fiancée. .
The British couple agreed that it is quite dangerous to let people live and do business on the tracks, but as this place is a unique beauty in Hanoi, local authorities should work with people on the best solution.
Luke said people could still go about their business with 'just better safety signage', lights to warn people of the train's arrival, giving them a few minutes to get out of the tracks and stay behind fences .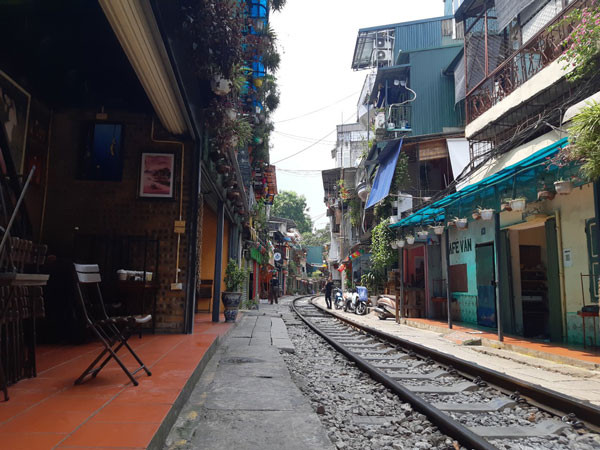 "I can understand why they do it [the shutdown]. It's not safe, but it's a way of life for some people," he said.
"You don't have that in Europe. And that's what makes it unique," ​​Luke said, adding that authorities and people should try to preserve and make the area safer.
Warrick Lawson, an Australian tourist, told the Hanoi Times that people should accept the local government's decision for their safety.
"They might have barriers. So this place could still function as a business. But you would have to come in… You would have to be there before the train came through to have a barrier or something," Warrick said.
But the local government "should leave it open because it's a viewing attraction."
It's a bit harsh for authorities to order the area closed, Quan said, adding that there should be a way to allow cafes to open while trains continue to run slowly here. »
"If we have a chance to make it a famous tourist area, we can provide security along the tracks," Quan said.
A cafe owner, who wishes to remain anonymous, told the Hanoi Times that this was a local government decision and people should accept it.
But she hopes that the authorities and the population will soon find a solution to settle this.
Source: Hanoi Times