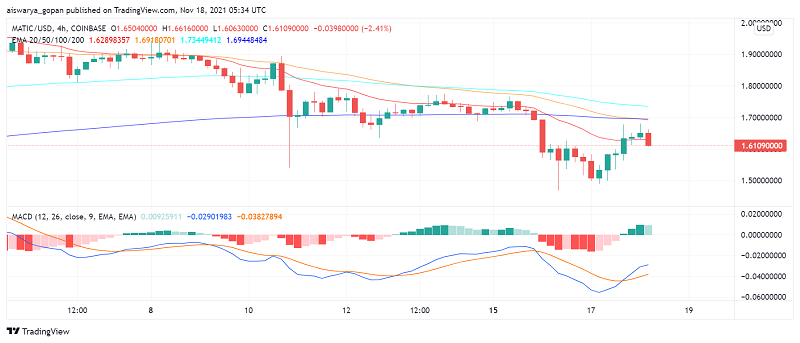 Polygon (MATIC) Announces New Miden Scaling Solution to Combat Ethereum Network Congestion
Polygon (MATIC) is trending lower, weighed down by market sentiment as market leader Bitcoin drops below $ 60,000, although its bearish moves are limited by strong fundamentals at the moment. At the time of writing, MATIC / USD is trading around $ 1.61.
Earlier this week, Polygon launched Miden – an advanced scaling solution based on zk-STARKs that can potentially solve Ethereum's network congestion issues. The Miden VM uses zero-knowledge evidence to deliver scalability to EVM-enabled blockchains, a promising development for dApps because it offers easier and faster validation while improving the overall efficiency of the Polygon network.
Everything you need to know about Polygon Miden
The Ethereum-enabled rollup leverages the Miden VM to support arbitrary logic and transactions – a drawback of typical ZK rollups. Any program executed on the VM automatically benefits from the generation of proof of execution based on STARK, without having to repeat the process and even without knowing the program itself.
The Polygon Miden Project is led by Bobbin Threadbare, former lead developer of Distaff VM and Winterfell from Facebook. Threadbare notes: "Polygon's addition of the Miden virtual machine represents an important stepping stone to help overcome some of the technical challenges of being able to rely on cryptographic evidence of computational integrity. "
To make the project even more attractive, Polygon will offer developers the possibility to compile Solidity-based smart contracts directly in Miden Assembly, the native language of its VM. With a focus on compatibility with Ethereum, Polygon Miden will be very flexible, supporting the compilation of other higher-level languages, especially secure, blockchain-centric languages ​​with support for formal verification, including Move.
MATIC / USD technical analysis
On the MATIC / USD 4-hour chart, most of the moving averages as well as the momentum indicator are giving strong sell signals. However, the MACD also suggests some buying interest in the market.
MATIC / USD
Polygon's price is below the pivot point at $ 1.73 but holds above the immediate support at $ 1.53. Watch this range carefully as a slight rise in buyers may cause a breakout to the upside while increased selling pressure may cause MATIC to drop below the support level.