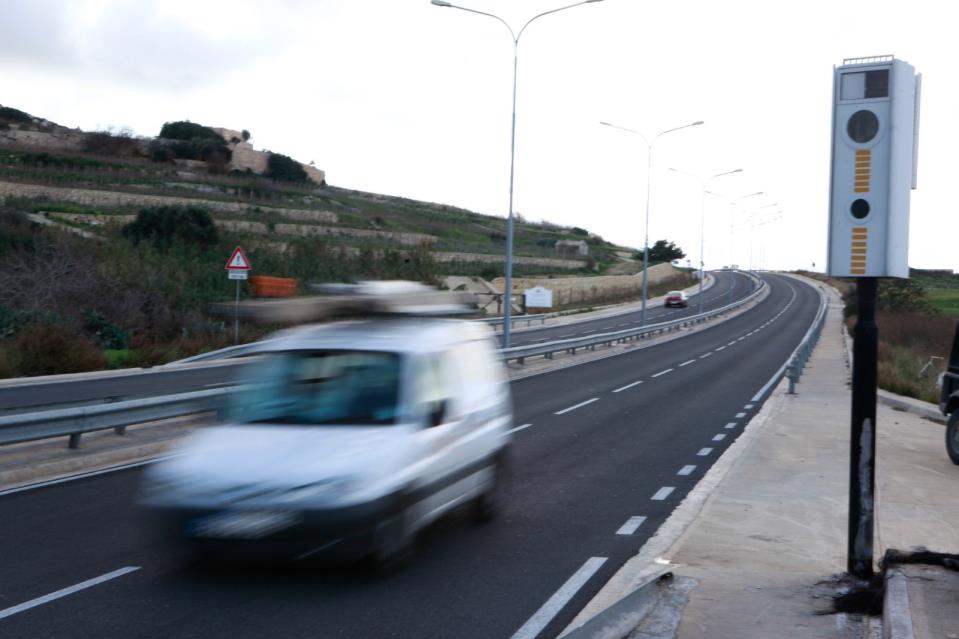 More speed cameras, rapid guns are not the only solution
We're not halfway through the year yet, but we've already had more road deaths than we've recorded in all of 2021.
We've had 12 road deaths so far, not to mention a long list of other crashes that have resulted in serious injuries, with people ending up in intensive care.
In most cases, accidents are caused by speeding. It is much easier to control a car when driving at 40 km/h than when driving at 80. And the impact of an accident at 40 km is less traumatic than at 80.
This is to state the obvious, but sometimes the obvious must also be stated.
One way to lessen the danger on our roads is to reduce speed, and one way to entice drivers off the accelerator is to install speed cameras. Fines are then issued to offenders and points are also deducted.
But speed cameras are not – and should not be – the only solution. And if speed cameras are installed simply as money-making machines and go against the logic of driving, they may not have the desired effect.
Strategy
We have several speed cameras on our main roads. Over the past 10 years, some 500,000 tickets have been issued, an average of 50,000 per year. In the first three months of this year, nearly 12,500 banknotes were issued, on track to maintain the annual average.
The lowest fine for speeding is €35.65, so if all of these fines were the lowest, the drivers collectively paid almost €18 million. It was much more than that, because drivers who exceeded the limit by more than 15km/h saw their fine shoot up to €69.65.
These cameras are strategically placed in accident-prone areas, we are told. But they only cover a small part of the route. Those who get caught are usually drivers who do not normally frequent the road in question and do not pay attention to signs indicating the approach of the camera and the speed limit in place, or have a moment of distraction.
The first question that comes to mind is whether speed cameras covering a short stretch are enough to encourage drivers to slow down. Many drivers get used to slowing down as they approach the speed camera, only to hit the accelerator again as soon as they pass it. In fact, most drivers only respect the limit in the small stretch covered by the camera.
The second question is why there are different speed limits on cameras on the same road. Take the coastal road, for example. There is a limit of 60 km/h on one camera and another of 70 on another camera, in the north and south directions. Is it to confuse drivers? Is this some kind of trap?
A sudden slowdown or an outright stop on a main thoroughfare is likely to be just as dangerous as speeding, and so this 'mixed' situation can also lead to serious accidents.
The third question is why is the speed limit so low on roads such as the coastal road, risking more accidents, as drivers are more concerned with looking at their speedometer than keeping their eyes on the road? road. Shouldn't there be an 80km/h limit like there is on the ring road in St Paul's Bay?
Does it make sense that in an open stretch on the coast road the limit is 60km, then as you approach Pembroke – where the dual carriageway inexplicably narrows to one lane – the limit is 70km ? Isn't this telling drivers that they can drive at a higher speed when they are supposed to slow down as the road narrows?
Most drivers end up paying fines even though they believe they have a chance of having the ticket overturned if they have to appear in court. They find it easier to pay rather than having to leave the workplace to dispute the ticket. However, we are likely to see a resurgence of such challenges, especially after the publication of a press article which explained how a court concluded that a speed camera was not calibrated according to law.
Fast guns
We've now been told that wardens will soon carry mobile guns, which they'll mainly use in residential areas, where speed limits are much lower.
It does not appear that drivers need to be warned that a security guard is using such equipment. While the intention is good, it just doesn't seem fair that a guard could hide behind a corner or a bush to take snapshots to gauge the speed of oncoming traffic. We should have a law that sets out the guidelines as to how, where and when these speed guns can be used. It's certainly not fair to the drivers.
Guardians are already known for the way they distribute tickets. The imminent use of such fast guns will only serve to reinforce the negative way in which they are perceived.
Roads
Speed ​​can cause accidents, but also bad roads.
The government has invested heavily in building new roads over the past 10 years, not without controversy as some of them involved taking fields and cutting down trees. One can wonder if they really served to smooth the traffic, because bottlenecks appeared in other places. The Tal-Balal road, for example, is now wider, but traffic is still hampered by the roundabout near the Liquid club and as one then approaches the church of Naxxar.
We were also told that Infrastructure Malta built or rebuilt 700 roads during the last legislature. But the agency seems to have missed a few important ones.
Signs on the roadside in St Andrew's say a project application to rebuild the section was made in 2019, but three years later only minor changes have been made. In the meantime, the road has degenerated into a rollercoaster of bumps, bumps and holes that a recent patchwork of tarmac hasn't repaired.
The same goes for the road leading from Lija to the center of Birkirkara, which is also in a sorry state, and there are many more like them. Too bad the route du Pape did not cover these roads; maybe we would have seen something done.
Accidents can also occur when drivers are more focused on avoiding the next pothole rather than being on the lookout for any other hazards they encounter while driving.
Why, then, do minor repairs take time to complete? A culvert grate that was dislodged on the way down from Mellieha to Ghadira took five to six weeks to repair and in the meantime posed risk as it was not properly marked to oncoming traffic reverse, especially at night.
Then, manholes that are not level with the tarmac also create a hazard.
Drivers and pedestrians
This brings us to the pilots. Many follow the rules, drive carefully and don't need speed cameras to make them aware of the risks of speeding. But there are many others who take unnecessary risks, putting themselves and others at risk.
Although this often happens because of other bad drivers – some, for example, persist in driving slowly in the fastest lane, which means drivers have to make their way – many do not follow the rules of the round -period, just to give a common example. Others don't know that cars have turn signals.
Pedestrians also have their role to play in reducing risks. Many cross a road at a dangerous place while there is a pelican light system just 50 yards away. Some walk on the road instead of using the sidewalk (even here some of the sidewalks are in a terrible state which makes walking just as dangerous, and nearly impossible for people pushing strollers and wheelchairs).
We have seen improvements, but we are far from what we all want.