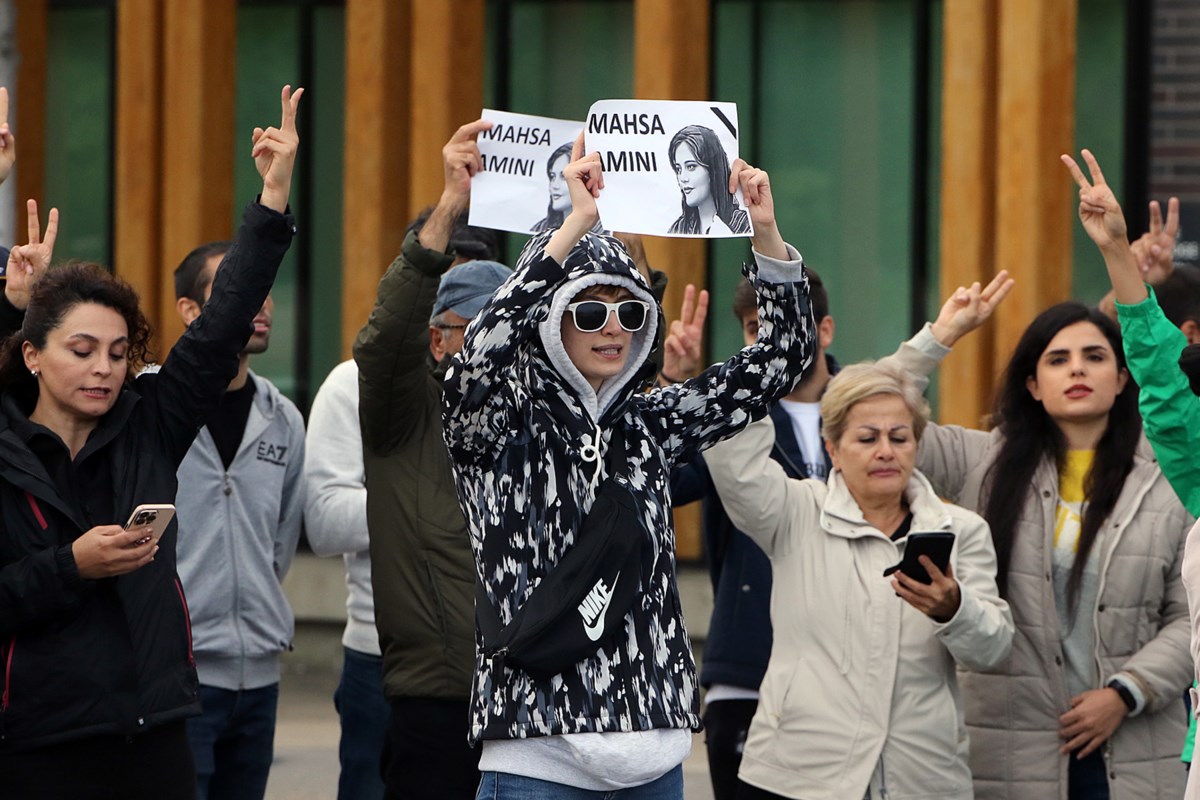 Dozens protest Iran's treatment of women
A waterfront rally took place weeks after Mahsa Amini, 22, was brutally killed while in the custody of Iran's morality police for failing to properly cover herself in public.
THUNDER BAY – The death of 22-year-old Mahsa Amini sent shock waves around the world, including in Thunder Bay.
On Saturday, a group of around 35 Iranians living in the city gathered in Marina Park, joining in solidarity with women of their homeland and beleaguered protesters on the streets of Tehran and other cities across Iran.
More than 75 people have died in Iran protesting Amini's death, which occurred while she was detained by Iranian morality police in mid-September. She had been accused of not wearing a hijab while traveling, which goes against Iranian laws requiring women to cover up in public.
More than 1,200 protesters have been arrested in the Middle Eastern country, which enforces laws enacted 43 years ago during the Islamic revolution.
According to a recent CBC article, women who do not comply, regardless of their religion, risk imprisonment, fines and physical violence. According to reports, Amini was beaten into a coma and later died.
Mohammad Ghadiri was among the crowd gathered at Prince Arthur's Landing, holding a sign reading Woman Life Freedom.
After the killings began, Ghadiri said he began to worry about his own family still living in Iran.
"I always think maybe the next person will be my sister or my mother. I'm so, so sad and angry about this issue," Ghadiri said.
He hopes the protests will awaken the eyes of the world to the oppressive nature of the Iranian regime, fueled by religion under President Ebrahim Raisi and Supreme Leader Ali Khamenei.
"My friends and I are doing this protest because of our people. We want the rules to change and we hope the government realizes its mistakes and maybe changes the rules, especially those for women. The government in recent years has not taken any positive action. Iranians think it is time for revolution.
Another woman, holding a photocopied photo of Ameni, with her name written underneath, said she thinks this is the biggest revolution in her native country for feminism in history. This led to the internet shutdown in the country last week.
She worries about her family back home.
"We don't know if they are okay or not," said the woman, who asked not to be identified in case she travels to Iran again.
"So we need the support of the world. We need people, especially on social media, to put #mahsaamini or put stories on Instagram or post something on Mahsa or something like that.
A newcomer to Canada, who has only been in Thunder Bay for a few months, the woman said the difference between the two countries in the treatment of women is huge.
"Many Iranians immigrate to Canada because of the lack of freedom in Iran. As a woman, you don't even have a choice to wear what you want. So it's a very basic human right that I can talk about here. When you have no choice but to choose what you want to wear, what kind of country, or regime, in fact, is it?
"This is the brutal and oppressive regime of Iran."